C O A B Discography - Single 8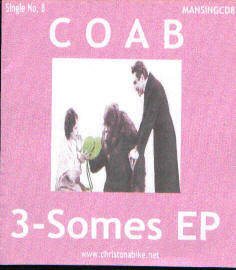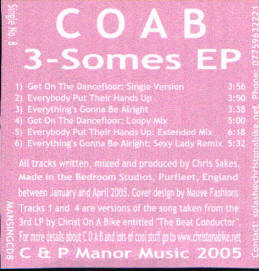 8th Single: 3-Somes EP Release Date: 30th August 2005
Track List:
Everybody Put Their Hands Up

Everything's Gonna Be Alright

Get On The Dancefloor: Loopy Mix

Everybody Put Their Hands Up: Extended Mix

Everything's Gonna Be Alright: Sexy Lady Remix

= THIS TRACK IS STREAMED CLICK ON IT TO LISTEN
Songwriters:
1-6. Chris Sakes
Background to single
The lead track from the new LP, The Beat Conductor, Get On The Dancefloor, was always destined to be a single, but the LP version needed a bit more vocals as the repetitive chant is just a little too same old, same old! The addition of some cheesey house chants adds to the songs handbag house feel and gives it a catchy slant.
Everybody's Put Their Hands Up was added to the original 17 song try-out LP but was thought more a single type release but perhaps not that strong on it's own. Built around the house chant of "everybody.. etc." well you can guess, the tune has a strong hook line.
Everything's Gonna Be Alright was always destined to be a single on it's own but Chris wanted this to go out while the new LP was around and the snatched sample, shh, not saying where from, was too good not to use. So it was teamed up with the other two songs to make a very strong 3 set EP hence the title. The song's catchy refrain darts in and out whilst the alien sounding phrasing commutes from speaker to speaker every now and again. The vocal samples also fit well in the context of this song and the versions of them that are on the remix also here.
Track 4 sees the Loopy Mix of Get.. popping around with plenty of cymbals and a slightly harder thumping bass drum. Track 5 is an extended version of Everybody.., there were more additional female vocals and some altered keyboards.
Track 6, is an interesting oddity. The original backing tune in this, is in fact an old song which Chris started and didn't finish called Electronic. The remix has a real strong feel to it, and with hindsight this might have made a better lead track or even a single on it's own. But there you go, C O A B had an amount of riches to play with once more for their new LP, so why not make their single releases always good ones.
The cover was intended as a play on the 3 song or 3-somes title for the EP e.g. swinging couples and their threesome dreams. Except this couple got more than they bargained for when they advertised for someone who was an animal in the bedroom!
To read more about the other singles continue on to each Singles titles page whilst the LPs can be found in the LP titles pages.