C O A B Discography - Single 9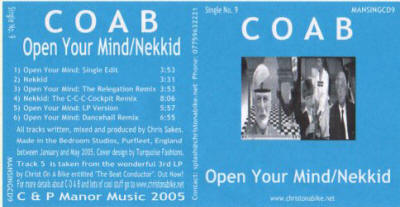 9th Single: Open Your Mind/Nekkid Release Date: 24th October 2005
Track List:
Open Your Mind: Single Edit

Nekkid

Nekkid: The C-C-C-Cockpit Remix

Open Your Mind: LP Version

Open Your Mind: Dancehall Remix

= THIS TRACK IS STREAMED CLICK ON IT TO LISTEN
Songwriters:
1 - 6. Chris Sakes
Background to single
Open Your Mind, is the fifth single taken from the third LP The Beat Conductor, and is remixed into three separate versions which includes an edited single remix, as well the actual LP track being included too. The single edit is a couple of minutes off the original and has been "souped-up" with extra bass drum and percussion. The original LP track has more of a UK garage style to it, which is why the track has been remixed differently to get a flavour for how it would sound both in house and ragga dancehall style.
Track 3 sees The Relegation Remix, so called because Chris's favourite football teams were both relegated last season around the time the track was being remixed. This was a bass thumping house mix with extra percussion and also additional vocal samples added to the verse refrain which has a beautiful synth riff to it. Track 6 is the Dancehall Remix, which throws in a slow ponderous but groove-laden ragga-beat tinged with dub bass lines and the proverbial MC/toaster vocal. The female vocal drops in every now and again to ensure it's not totally out of sync with the original song.
Nekkid, is something else! Unashamedly stolen from one of group's favourite movies, Airplane, this sound bite gives a whole new meaning to a phrase "cockpit pilots!" Peter Graves gravely voice (ouch!) chants the refrain to the visiting small boy in the cockpit which mentions the "nekkid" word on a fairly regular basis over a smooth backbeat and non-too-unfamiliar X-Files like piano tinkle! The break brings out the lilting reggae slant to the tune as once again the choral backing vocals drift in and out. The C-C-C-Cockpit Remix takes this a stage further with another thumping bass drum kick and a new set of synth lines and riffs that explode with piano and arpeggios aplenty. Peter gets the hiccups whilst asking Joey if he's ever been in a plane before.
The cover is a straightforward mix of the "open mind" and the "nekkid" owner of the vocal, Mr Graves himself, pictured together. Oh, and of course, Joey! "Tell me Joey, do you like movies about Gladiators?!"
To read more about the other singles continue on to each Singles titles page whilst the LPs can be found in the LP titles pages.