C O A B Discography - Single 24
24th single: Another Day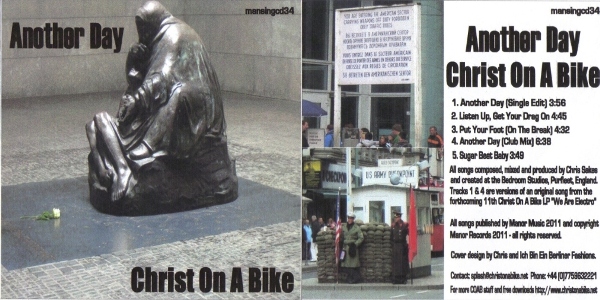 Release Date: 15th August 2011
Track List:
Another Day (Single Edit)

(3:56)

Listen Up, Get Your Drag On

(4:45)

Put Your Foot (On The Break)

(4:32)

A

nother Day (Club Mix) (6:38)

Sugar Beat Baby (3:48)

= THIS TRACK IS STREAMED CLICK ON IT TO LISTEN
Songwriters:
1 - 5 - Chris Sakes
Background to the single
Here is the second single to be taken from the 11th LP "We Are Electro".
The tracks: -
1. Another Day (Single Edit) is a beautiful electro ballard. A smooth female vocal delivery reminiscing over an actress's first big movie part and the love she lost on set. This a single edit of the original track which will feature on the new LP.
2. Listen Up, Get Your Drag On is a track not from the LP and is a whacked out girlie song made for those of the drag persuasion! Two female voices play hopscotch around each other to a thumping krautrock electro beat.
3. Put Your Foot (On The Break) A deliberate spelling by the way! this is a slower more refined song mixing a blend of fidget house and electro groove.
4. Another Day (Club Mix) A more upbeat clubby version of the main track with a harder synth bass and a more pacier disco setting.
5. Sugar Beat Baby If you like to hear more about the uses of sugar beat, well here you go!? This is darker more sublime mix of a vocal line from a sugar advert in the US from the 40s.
The cover is from the Berlin Museum of the unknown weeping mother and her child.
To read more about the other singles continue on to each Singles titles page whilst the LPs can be found in the LP titles pages.
Buy it as a download from: Noisehead (all tracks - $0.69c)