C O A B Discography - Single 6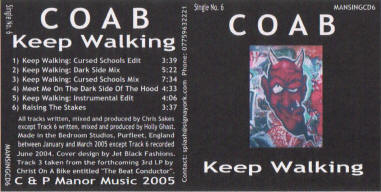 6th Single: Keep Walking Release Date: 10th June2005
Track List:
Keep Walking: Dark Side Mix

Keep Walking: Cursed Schools Mix

Meet Me On The Dark Side Of The Hood

Keep Walking: Instrumental Edit

Raising The Stakes

= THIS TRACK IS STREAMED CLICK ON IT TO LISTEN
Songwriters:
1 - 5. Chris Sakes
6. Holly Ghast
Background to single
Keep Walking came from a single soundbyte borrowed from another of those wonderful websites that throw out weird and wacky soundbytes like this one, which came from a self righteous religious news broadcast. The news reporters comment on the national US newspaper, USAToday's report of "cursing" in schools throughout the nation. Their shocking report mentions that 89% of high school principals throughout the US face swearing in schools everyday, to which the male reporter comments that this is the sole responsibility of "that mysterious E.T. called Satan!" Even more weird!
The 1st, 3rd and 5th track are a mixture of the song in different formats, the LP version was in fact going to be the instrumental but the Cursed Schools Mix is so good it was reckoned it should be on the LP as it is. The 2nd track is a much harder version with the darker devilish verses thrown in. By the way the "Satan, keep walking" line is by Chris throughout all these tracks.
The 4th track is a real departure for Chris. A remix in a rap/hip-hop style, something he has not truly tried before although his rap on Searching For Miss Black Alabama was close. This was a completely new version which has little to do with the original song. Built up over a slow thunderous bass drum and ponderous bass-line and a menacing organ riff, this supplies just the right edginess to be close to the Ice T/Ice Cube style. Perhaps not quite Eminem or Dr Dre, but all the same, it has the right effect.
Track 6, Raising The Stakes, shows off one of the songs that Holly had completed that was a candidate for the LP at one time but to be honest it fits better as a b-side. this was a trance like tune built on an alien effect riff and hard bass lines.
The cover is a cartoon graffiti depiction of the devil taken from a New York sidewalk wall.
To read more about the other singles continue on to each Singles titles page whilst the LPs can be found in the LP titles pages.