Trancel8r
2nd LP: All The Fun Of The Fair Release Date: 7th August 2010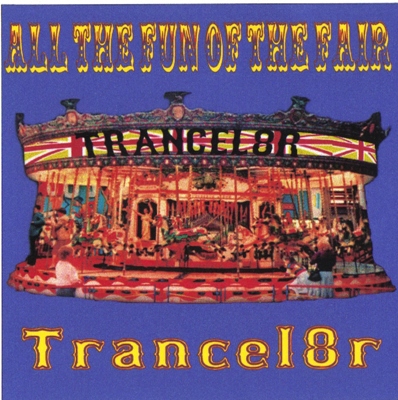 Singles:
LP Track List:

= THIS TRACK IS STREAMED CLICK ON IT TO LISTEN
Songwriters: All tracks - Trancel8r
Background to the LP
Trancel8r's self-titled 1st LP (2008) was received with quiet astonishment as the man set about putting a little techno soul into the world once more. The LP spawned four singles although these were released singular only as FREE DOWNLOADS (see Trancel8r page). Now he is back with a brand new LP entitled "All The Fun Of The Fair", he'll tell you all about it.
I have been working on this LP for 18 months starting with "Dedication" which was left off of the 1st LP because of the similarity of sample vocal styles but it was such a strong track I was going to release it as a follow-on single to "Giving The Dog A Bone". There were also a few other tracks part finished from the 1st LP sessions but many have been replaced by brand new songs recorded only recently using a new set of equipment and sample changes. "Gin And Teutonic" runs the gambit of techno and trance alongside the title track "All The Fun Of The Fair" both being written back in 2008 whilst sweetly voiced fast-paced "Walking Away" and the operatic techno of "Tormento" were the first new songs I'd put together after that period.
By 2009 I had more than ten songs recorded but there were remixes to work on for Christ On A Bike, Dragon On The Wagon and The Groove Avengers and new inspiration came from the grime and dub-step sounds that were coming out of London with DJ Rasta appearing on both the trancey ragga of "Champion Sound" and it's dub-step playmate in "Darkcore". There was more fun to be had with the straight up techno of "This Music Makes Me Move" which has been out on noisehead.com for about five months and the cute "Hey Baby", whilst I then played around with more trance/techno vibes merging electro and tech-step sounds and produced "Are You Ready" and "Daft Fader". My final track for the LP in 2010 was "Steady On, Ethan" which you can work out what you think it might say!
So, here it is then the return of Trancel8r to the airwaves and internet playbacks, let's go to the fair!
YOU CAN BUY IT HERE STRAIGHT AWAY.
THE CD PURCHASE PRICE IS £7.99 THIS IS TO COVER SHIPPING AND PRINTING COSTS. (YOUR CD ALBUM WILL BE WITH YOU WITHIN 14 DAYS DEPENDING ON YOUR COUNTRY OF RESIDENCE)
CD ALBUM PRICE - £7.99
click below to purchase
Also available from CDBaby