C O A B Discography - Single 7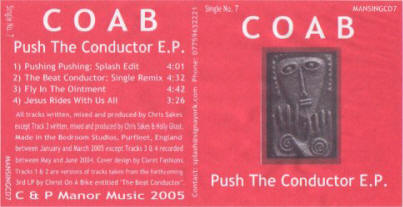 7th Single: Push The Conductor EP Release Date: 18th July 2005
Track List:
The Beat Conductor: Single Remix

Fly In The Ointment

Jesus Rides With Us All

= THIS TRACK IS STREAMED CLICK ON IT TO LISTEN
Songwriters:
1-2 & 4. Chris Sakes
3. Chris Sakes & Holly Ghast
Background to single
This was Chris's favourite two tracks from the new LP, and even Holly had to admit that Pushing Pushing was so commercial it ought to be released to other labels to try to get a deal. Chris of course, wasn't too bothered about that but nonetheless it was pleasing that his musical compositions were getting better all the time.
Pushing, Pushing was edited from it's LP version down to four minutes. There is an element of cheating with the sample taken from a song that was never a hit back in the early 70's. The sample is tiny really and has been radically altered to produce that grating back riff that features in the song. otherwise, it is just as usual, all legal samples including the vocals, which do fit nicely. Even though when first released through a download site, one comment on the song was that the vocals did not fit. Well Chris thinks they do!!! So stuff you!
The Beat Conductor, was of course the title track from the new LP. It is a beautifully crafted song with lyrics that superbly fit the happy swing of this curious piece that is difficult to pin down musical genre wise. It is very catchy and the version here has a stronger bass and drum set to the original and has been remixed and edited by Chris.
Fly In The Ointment was one of the incomplete tunes which Holly had produced just prior to the 2nd LP in 2004. Chris found some great fly samples that work well with the bee humming sample that is used in and out of the song, the flies dancing from speaker to speaker has they go. This didn't quite fit the 2nd LP so it gets an airing here instead. Although at one time, Chris was thinking of putting out a solo LP of rock/pop tunes, which this would have been included on. That might still happen!
Jesus Rides With Us All, was a Chris penned tune that again, wasn't quite a suitable fit for Me, You & Jesus Two. The song title was really a play on the exasperating sound that drifts in and out of the song alongside the two choral vocals, almost like a wheezing cough from a struggling cyclist, hence the title. This was Chris's play on the Kraftwerk tune Tour De France which has similar noises.
The cover depicted a Mayan religious relic that shows the hands of a healer. Not quite anything to do with pushing or conducting, but nice none the same.
To read more about the other singles continue on to each Singles titles page whilst the LPs can be found in the LP titles pages.