C O A B Discography - Single 3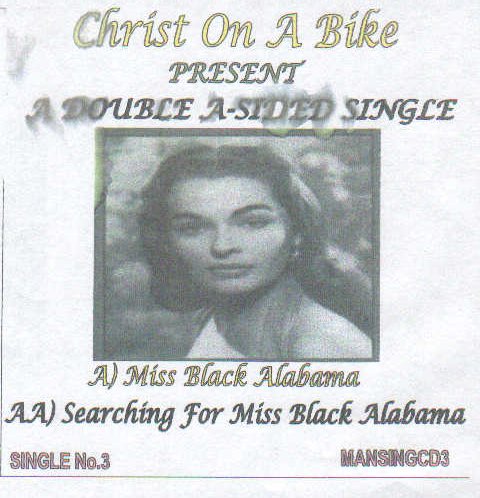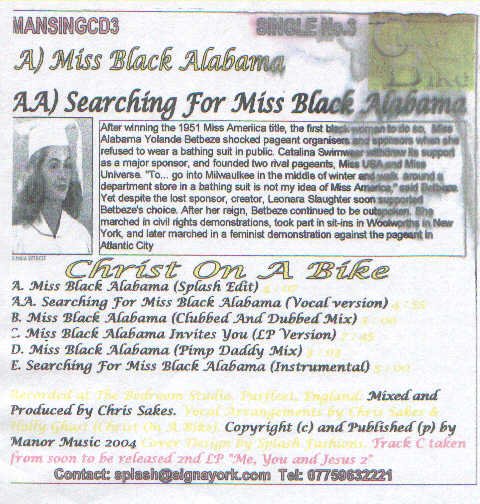 3rd single: Miss Black Alabama/Searching For Miss Black Alabama
Release Date: 27th August 2004
Track List:
Miss Black Alabama (Splash Edit)

Searching For Miss Black Alabama (Vocal Version)

Miss Black Alabama (Splash Dubbed & Clubbed Mix)

Miss Black Alabama Invites You (LP Version)

Miss Black Alabama (Pimp Daddy Mix)

Searching For Miss Black Alabama (Instrumental)
Songwriters:
1-6. Chris Sakes
Background to single
Miss Black Alabama became the third single to be lifted from the 2nd LP, which at the time of this single's release was still being finalised. The song was inspired by a vocal sample found online which was advertising a fan club and radio station for the Miss Black Alabama pageant winner. The spoken vocals were believe to be made by a recent winner of the title in 1999 but this cannot be substantiated.
The song was written around a nifty double beat sample which picks up from supposed radio interference and then runs into a dancey bass line that sounds extremely Kraftwerk-ish in nature. This then runs around the vocal sample ad infinitum!
The first track is a Chris Sakes edit of the seven minute full LP version. Track two however, was something different. Chris decided to try his own vocals in a mock rapping voice with specially written lyrics based on the lady of the title and his quest to find her. the whole track was re-written with a few of the original parts layered in, here and there. The song was given the Searching title and it was decided to make this a double A side, although on CDs this is pretty difficult to convey. The singles cover therefore features this prominently and lists the tracks as A, then AA then B and onwards.
Track three was a five minute dubbed version of the original with some parts retained but a totally new backbeat and bass line. The song was considerably slower and the vocal sample sounds laboured intentionally. The LP version came up next. This again was one of the stronger songs on the 2nd LP and was popular with those who heard it.
Track five was a funky version with the slowed vocal sample cut up as a repeated mantra and some extra soulful vocals chanting "Time Machine!" for some reason! Horns and funky bass lines a la "Starsky & Hutch" came and went during the song. Very 70's! Track six was an instrumental version of the second song just in case anybody wasn't too taken with Chris's vocals!
The cover featured a picture and some historical details about the very first black Miss America, Yolande Betbeze who won the title in 1951. Her insistence that she would not wear bikinis to promotional campaigns especially in inclement weather just so men could see her body lead to her almost having to give up the title. She went on to become a major speaker against both racism and sexism, regularly attending peaceful protest marches for those causes.
Apologies for the cover photos!!!!!!
To read more about the other singles continue on to each Singles title page whilst the LPs can be found in the LP title pages.