Trancel8r
3rd LP: Thr33 Release Date: 17th November 2014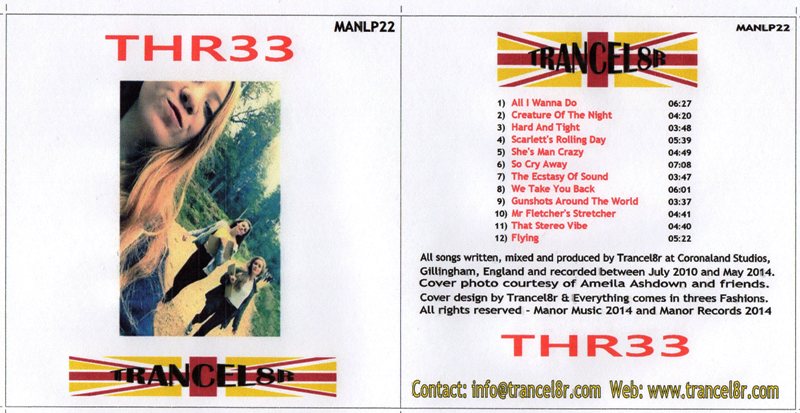 Singles: 1st single The Ecstasy of Sound (Single Mix)

2nd single So Cry Away (Single Mix)
3rd single She's Man Crazy (Single Mix)
LP Track List:
Songwriters: Trancel8r
Background to the LP
All I Wanna Do was originally worked up as a single release for the last LP but was not completed in time to be issued. This is a mixture of trance like synths and heavy drum n bass bass lines. The vocal weaves in and out of the song and comes to a banging climax. There is a current remix to be issued as a single.
Creature of the Night This song was recorded back in 2012 and was intended as an instrumental until some found chanting vocals were obtained and the song changed dramatically into a menacing dubstep track.
Hard And Tight The track was create in 2012 and went through several iterations before merging in a fast paced 130bpm style.
Scarlett's Rolling Day. This was one of the first songs which was worked on back in 2012 and developed over time with several instrumental versions before vocals were added last year and the song took on a life of its own. Could have been a single but in its full version has a great percussion lick.
She's Man Crazy Third single to be taken from the LP and very commercial track although at over 5 minutes it needed some editing. Techno meets Trance round at Electro Pop's house!
So Cry Away Another outstanding song from 2012's recordings which was completed only this year. Released as a second single, this track has a beautiful female vocal line which floats through arpeggio synths.
The Ecstasy of Sound Released as the first single from the LP. This song was recorded as a demo with Chris Sakes of COAB originally back in 2011 but was never released. Re-0worked in 2013 and then given a remixed edit for a single. Was originally proposed as the title track for the third LP.
We Take You Back Recorded in 2013 and worked up into a new track during the 2014 sessions, this old school acid house banger has bubbling 808s and the usually mix of acid style vocals.
Gunshots Around the World Some harmonies have been added most recently, but this song remains a later 2014 instrumental. Originally intended as a play on the Human League song "Seconds" and meant as a tribute to John Lennon.
Mr Fletcher Stretcher was another song from the 2013 sessions which has been reworked during 2014 and has that mixture of synth lines and low end bass.
That Stereo Vibe Was also a 2013 track as above but was worked on with Chris Sakes and then re-worked up with some bubbling acid house 808s and vocals.
Flying This track has been around since 2012 and was intended as an extra track for a single three years ago. Ends off the LP nicely with male vocal responses and female chants mixed with airline synths.
RELEASED THROUGH CDBABY NOW AND WILL ALSO BE AVAILABLE TO DOWNLOAD FROM NOISEHEAD.COM