C O A B Discography - Single 4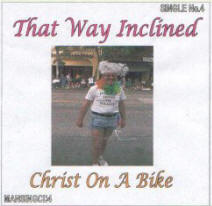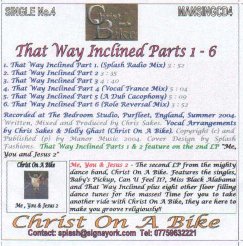 4th Single: That Way Inclined Release Date: 26th October 2004
Track List:
That Way Inclined Part 1 (Splash Radio Mix)

That Way Inclined Part 2

That Way Inclined Part 3

That Way Inclined Part 4 (Vocal Trance Mix)

That Way Inclined Part 5 (A Dub Cacophony)

That Way Inclined Part 6 (Role Reversal Mix)
Songwriters:
1-6. Chris Sakes
Background to single
Taken from the Me, You & Jesus 2 this was the final single before the LP was released a week later. This song was inspired by someone Chris knew from his working days and was made in his honour. Since the theme of the song is fairly obvious, there isn't any need to go into lengthy explanations about this person's sexuality!
The original track was a two-parter over nine minutes long that started robustly with a strong trance style thumping bass drum and then grew into a softer rhythmic song which was Part 2 only for Part 1 to come roaring back later. Chris remixed Part 1 into a single radio version and then made Part 2 a little louder! Part 3 was a different beast, with more thumping bass drum and harder acidic bass lines. New percussion was added and the whole thing really does turn into a brand new song. perhaps a little like Everything But The Girl circa 1999.
Part 4 however, was another of Chris's chances to radically play with the song by adding his vocals once more. This was a better attempt than perhaps his rap style vocals on Miss Black Alabama and certainly got better responses. His vocal was better produced and made this the Vocal Trance Mix worth a definite listen. Part 5 was a playful dub version more in the trance dub style than reggae dub of old. This was a catchy slowed down version of the song and aimed to provide a minimal percussion mix with the Chris chanted mantra of the song title.
The Role Reversal Mix is exactly what it says on the label! The song reversed, well most of the layers have been reversed with that catchy hook and riffs played backwards alongside the original backing track. However, there's no "devil's backward message" though!
This was the first time the cover featured anything advertising the new LP at the time. The front cover had a nice picture from the 2003 Gay Pride festival in San Francisco which depicted an extremely pleased elderly gentleman whose t shirt openly states "My friends all think I'm straight!".
To read more about the other singles continue on to each Singles titles page whilst the LPs can be found in the LP titles pages.