The Groove Avengers 4
4th LP: Walking Back To Jazziness Release Date: 18th September 2012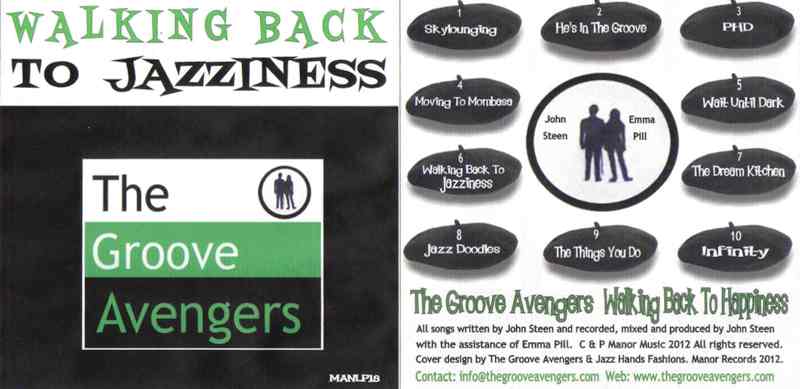 Singles: 1.The Things You Do

(The Groove Avengers 8th single)
2. Jazz Doodles (Jazzy Boy Single Mix)

/ Walking Back To Jazziness (Jazzy Boy Edit)

(The Groove Avengers 9th single)
3. Movin' To Mombasa (Wunmi's Single Mix)

(The Groove Avengers 10th single)
Track List:
Skylounging 3:37
He's In The Groove 4:26
PHD 4:16
Moving To Mombasa 2:37
Wait Until Dark 4:28

Walking Back To Jazziness 6:24
The Dream Kitchen 3:30
Jazz Doodles 4:12
The Things You Do 3:56
Infinity 4:53

= THIS TRACK IS STREAMED CLICK ON IT TO LISTEN
Songwriters:
Background to the LP
The band has been working on no less than 3 albums of material since they released A Night At The Club at the end of 2009. In between times they worked on various songs and also contributed remixes for Christ On A Bike, Trancel8r, Dragon On The Wagon and Yamasaki.
At the current stage (mid-2012) they are now ready to release their first LP, a jazz tinged soulful mix of funk and rare groove. Starting off with the smooth blend of silky textures in Skylounging TGA show off their highly tuned laid back funk and soul. This gives way to another jazzy horn section battling with tweaked guitars and a double bass of real lustful blues in the 50's voiced He's In The Groove, stuck in the 50's it is not!
Next up we have PHD. More mellow synths and tinkling piano and acoustic rhythmic guitars blend with a set of trombones and saxes who are looking for a fight! then some chap brings his flute and it all kicks off! Okay perhaps it's not quite the rumble but its certainly pure groove!!!! Now Moving To Mombasa, you won't forget. This African layered guitar track has real sonic potential with its mix of male vocal lines and marimba riff. Another horn section jumps the bus to Mombasa and off we go along a bumpy dust ridden road. Look out for the single version of this song too which has been extended and sounds even more lush!
Wait Until Dark has been around since 2009 and was just too late to fit on the ANOTT LP but it is revamped in all it's smooth tinkling piano lines and synths mixed with a thumbed guitar pick and a steel guitar too. An instrumental of real class. What could be said to be side two kicks of with the title track, Walking Back To Jazziness in all its six minute glory. This track is very much in the same mould as A Night On The Town but with a faster jumpy beat merging with a set of piano/organ riffs and a dancey bass line to boot. Pitched as the double a side on the single too with a new remix. The Dream Kitchen follows with that 50's sample coming back to haunt you. A snotty lady with her special dream kitchen that even the down-trodden husband can work out how to use.
Jazz Doodles follows next, also part of the second single from the LP in a double a side. This mix of harmonies from male and female moves along in a jazzy groove mixed with an almost frog like riff pattern! Check our the Jazzy Boy remix on the single too. The Things You Do, the first single and quite the busiest and most commercial track on this LP. A brilliantly constructed organ based tune which merges electric guitar refrains with bass synth lines and soft percussion. Great lyrics too. The finishing line comes up with the final track in the elegant Infinity, another of those tracks that were around in 2009 and has been worked on for some time to hone this beautiful slow instrumental soulful sound full of shimmering lines of percussion and guitar.
THE "WALKING BACK TO JAZZINESS" CD IS AVAILABLE NOW!!
YOU CAN BUY IT HERE STRAIGHT AWAY.
THE CD PURCHASE PRICE IS £7.50 THIS IS TO COVER SHIPPING AND PRINTING COSTS. (YOUR CD ALBUM WILL BE WITH YOU WITHIN 14 DAYS DEPENDING ON YOUR COUNTRY OF RESIDENCE)
CD ALBUM PRICE - £7.50
click below to purchase