C O A B Discography - Single 2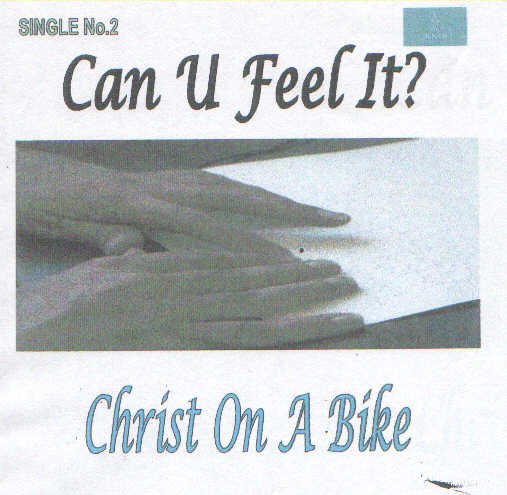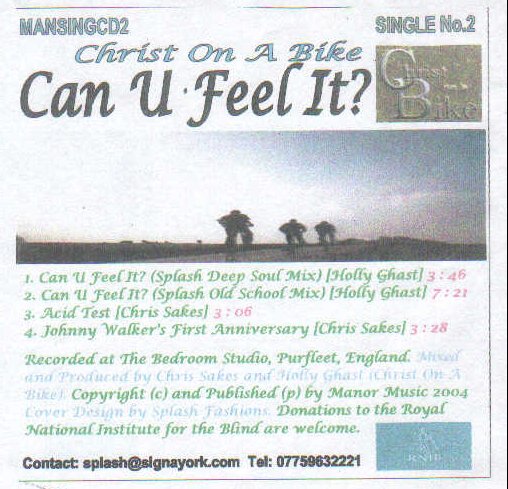 2nd single: Can You Feel It? Release Date: 15th July 2004
Track List:
Can You Feel It (Splash Deep Soul Mix)

Can You Feel It? (Splash Old School Mix)

Acid Test

Johnnie Walker's First Anniversary
Songwriters:
1 & 2 Holly Ghast
3 & 4 Chris Sakes
Background to single
Can You Feel It? was lifted from the LP song Disco! Sexy Baby! Hot!!, which was provided by Holly and was then remixed by Chris in two different versions. The Splash Deep Soul Mix was the most popular of the two and both mixes had additional female vocals that defined the style of the remix for the single. Chris renamed the original LP track adding the brackets and Can You Feel It moniker.
The original was a strong trance-like song with bare vocals. The title coming from the BBC TV Fast Show series that had Chanel 9's disco singer with female backing singers whose backing vocals questioned his sexual play!
Acid Test was an instrumental, a slower precursor to a song as yet released called Bubble Pop Shot. Both songs had an old 90's Acid-style to them but were different in speed and feel.
Johnnie Walker's First Anniversary was the most unusual of songs. This was an instrumental drum n bass tune based around the long spoken sample of Radio One DJ, Johnnie Walker, who was announcing on air his first anniversary with the Beeb. Or at least it is believed to be the BBC. It could have been either pirate stations Radio Caroline or Radio London, we are not sure! His sound-bite resonates throughout the tune giving an eerie mood to the piece, almost as if the listener was actually there in a cramp dusky studio. Johnnie, unable to make his thoughts and intentions clear to his ever helpful assistant who misunderstands his comments, lurks in the darkness of the studio, with only candles to celebrate his anniversary. But at least his assistant gets it right in making Johnnie a cup of tea.
The cover featured the use of braille (blind people use this for reading through feeling the perforated documents). The RNIB were also featured on the cover since Chris' favourite charity is the Royal National Institute for the Blind.
To read more about the other singles continue on to each Discography Sing page whilst the LPs can be found in the Discography LP pages.