C O A B Discography
Eleventh LP: We Are Electro Release Date: 31st October 2011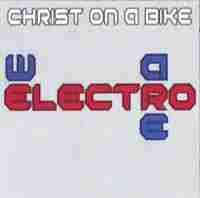 Singles: 1) The Last Days Of Disco
2) Another Day
3) Just Look At Australia
4) Temptation
/ House Beat
Track List:
Temptation (3:46)

Another Day (5:25)

Ultramarine Soldier (4:22)

I Miss You Baby (5:12)

Freedom Day (That's All You Get) (5:31)

Sacred Melody (4:32)

The Last Days Of Disco (4:00)

Just Look At Australia (5:14)

Kaleidoscope In Dub (3:39)

Feel The Funk, Feel The Rhythm (4:32)

Trying To Get Into The In Crowd (6:08)

Sounds Imperative (8:22)
= THIS TRACK IS STREAMED CLICK ON IT TO LISTEN
Songwriter: 1-12 Chris Sakes
Background to LP
1) Temptation There will always be a disco for Christ On a Bike! Even if it should be known as a "club track"! The band start with a brazen Kylie-like song with a selected heavy breathing vocal over some thumping bass and syncopated synths. An obvious commercial single choice but relegated to the fourth, that's how good all these track all are!!
2) Another Day The second single from the LP and an obvious choice as the full female vocals lends itself to this moody piece of club/electro pop , it wants to be a ballad but can't help being way too catchy. There's an even more freakier club version to go with this too. Eat your own meat dress Lady GaGa!
3) Ultramarine Soldier So this is what happens when you make a "B2 side track for a 2008 single and it ends up being one of the most played and venerated tracks on the Noisehead.com website. Originally released as "Extremer Marinesoldat" to go with the "Tanz" single as a collection of German Kraftwerk themed songs from the "Download The World" LP, the title was meant to be Ultramarine not with the soldier part in however the German translation add that in and voila! Or Achtung!!! Now a re-worked version, slower and more refined than the original with a punchier bass drum. Will it top the Noisehead chart again?
4) I Miss You Baby Another fantastic electro pop tune bursting for a club mix and yes that's just what has happened to it although this version has all the synths and danceable percussion. There's a club version too which may appear at some stag in the future but take hold of this track by the horns and go with it!
5) Freedom Day (That's All You Get) And one more potential single that misses out but there is a Freaky Mix on the way. This has an awesome catchy bass-line and the female vocals blend nicely with the pacey snyths and sequencers used on this beat driven boom box of love!
6) Sacred Melody This track has been around since 2008 and just missed being included on the Download The World LP. This song has its roots in the krautrock bands of the 70s like Can, Neu and of course Kraftwerk. It owes its thumping bass to the days of New Order and the Pet Shop Boys.?
7) The Last Days Of Disco No, this is not the Robbie Williams track, this was done way before his track (it has no The in it by the way). The first single from the LP, this is a prime piece of electro pop, catchy, commercial and looking for some demon radio play. Plenty of vocoder voices and alien-like vocals ask "when is the disco revolution"? Another one that Lady GaGa wished she had her hands on.
8) Just Look At Australia The third single and probably the wildest with Chris taking on the role of both a radio talkshow host and that of his guest the so called Right-wing spokesmen Baxter Basics MP (yes the name is stolen from Viz!) here is another slice of thumping electro pop over a demanding Mr Basics as he tries to deal with the controversial subject of immigration but claiming that Australia is the answer. Er sorry?!
9) Kaleidoscope In Dub the band get to let loose on a dub track. This has beautiful female vocals and some heavy bass as you'd expect with reggae dub. Lots of echo, layered guitar stabs and percussion breaks.
10) Feel The Funk, Feel The Rhythm Straight up no nonsense funk and electro club track that also should be a single! You never know, this too should have a club version being worked on as we write but meanwhile here's some ace club beats and funky percussion bouncing around your lugholes!
11) Trying To Get Into The In Crowd A long title and a long song (but see next!). This is due to feature on a future single at some point, possibly when COAB release a Best of!!!! A thumping track with cutesy lyrics in another American valley girl style and shrieks and shouts.
12) Sounds Imperative Another track that has hung around awaiting a full commercial LP release since 2008. This track has been used at gyms and was put forward for inclusion in a commercial in 2009 but failed (it was too long!). At over 8 minutes, this is one of the longest tracks the band have had on an LP and that echo ridden bass drum mixing with the sequencers followed by the operatic female startlet singing her heart out makes this so special. We are sure you won't be able to resist going back over these tracks by the time this song finishes.
The cover is a simple play on the we are electro words.
To read more about the singles from this and other LPs go to the Singles sections.