The Groove Avengers Discography - Single 13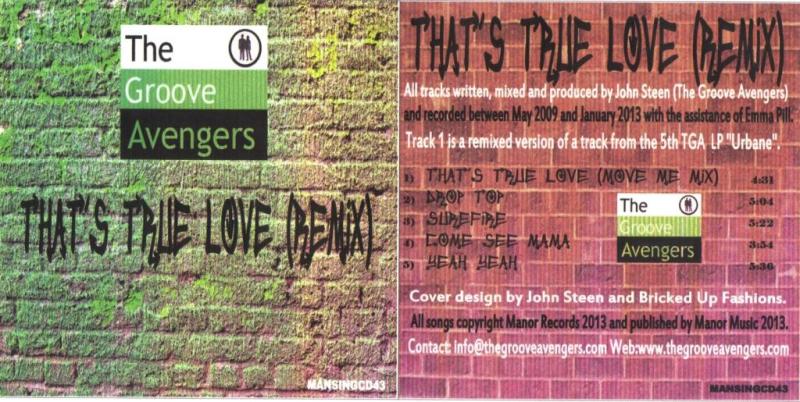 13th Single: That's True Love (Move Me Remix) Release Date:2nd April 2013
Track List:
That's True Love (Move Me Remix)

Drop Top

Surefire

Come See Mama

Yeah Yeah
= THIS TRACK IS STREAMED CLICK ON IT TO LISTEN
Songwriters: Tracks 1 - 5 John Steen
Background to single
Here is the 3rd single from the forthcoming 5th LP "Urbane".
That's True Love (Move Me Remix) is a slightly different version of the track that features on "Urbane" and highlights the dance feel for this track with a bolder bass line and a different house style drum track
Drop Top is a hip-hip standard type of track with slower synth lines and that urban vocal line based around the engineering prestige of souping-up cars.
Surefire has a bassline stolen in a way (but not literally!) from the Beastie Boys fantastic Sabotage track.
Come See Mama is different slant with a mixture of an industrial electronic backing track and piano led female vocals in a r n b style.
Yeah Yeah is a virtual old school track mostly instrumental in it's style.
YOU CAN BUY IT HERE STRAIGHT AWAY
THE CD PURCHASE PRICE IS £1.99 THIS IS TO COVER SHIPPING AND PRINTING COSTS. (YOUR EP SINGLE WILL BE WITH YOU WITHIN 14 DAYS DEPENDING ON YOUR COUNTRY OF RESIDENCE)
CD SINGLE PRICE - £1.79p click below
To hear more about the fifth LP by The Groove Avengers, go to their 5th LP page
Author: splash@christonabike.net
Copyright © 2007 onwards by www.christonabike.net. All rights reserved.
Revised: 28 Jul 2014 19:11:08 +0100 .
©2002 webtemplateszone.com free web templates at webtemplateszone